When I look at the EUR/USD pair, I see a lot of opportunity in the near term. The pair has rallied a bit over the last few days, mainly in the new found "risk on" attitude, now that the Bank of England is doing SOMETHING. The central bank has been dragging its feet until a couple of days ago, when the stated that they were going to buy bonds in order to stabilize interest rates in that country. However, those rates spiked again on Thursday, so I think this is short-lived at best. Also, lets be honest here – the BoE claims that it is still hiking rates going forward, which essentially works against the action.
The British pound rallying makes at least some sense, but in general, this has been an "anti-dollar" move more than anything else, so sooner or later we will see a return to the overall fundamentals. These scream that money and capital will be running from the European region overall, and anything that is reliant on it. Also, Nordstream 2 has been sabotaged, so winter just got that much more cooler in the EU. Inflation rages, but growth is collapsing. In other words, there is no reason to think that the area is going to be where you want to invest. Don't get me wrong, someday you will make a killing buying GBP and EUR, but that day isn't now.
Technical Analysis
The technical analysis is relatively straightforward at the moment, as we have been in a major downtrend for ages. It is also worth nothing that the 50-Day EMA sits just above, and is walking along what could be thought of as a trend line. Beyond that, you have the psychological "parity level." In other words, this market is most certainly "climbing a wall of worry."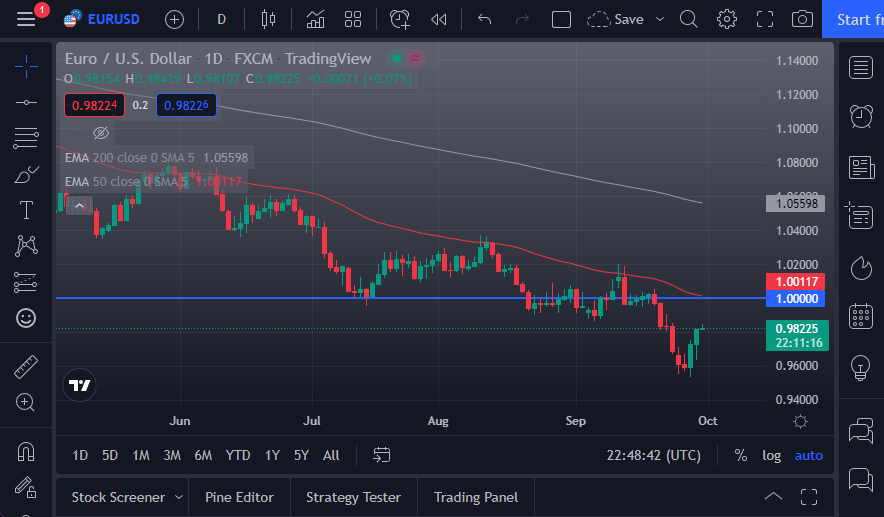 The market will probably see a bit of further moment to the upside, but I don't think that the parity level is ready to give back the area to the buyers, and even if it did – there is still a lot of dollar positivity out there. Let's be honest, currency markets don't change trends very often, so in times like this, you are waiting for a signal to jump on the EUR again. I think this is probably a Monday story, but I will be watching on Friday, just in case people start shorting into the weekend – which would be a very bearish sign.
As things stand right now, the only way I would buy this market is if the Federal Reserve suddenly pivots, but they are nowhere near that at the moment. Like Jesse Livermore once said, "Sometimes, we get paid to wait."