Is gold finally breaking?
I have been watching the gold market with interest over the last several weeks and have been a bit surprised at just how resilient the market has been for a while now. Everywhere you look, there have been reasons to think gold would fall. However, there has been a bounce every time it looked hopeless. The question now is whether or not we just finally made a decision.
The weekly spot gold chart has shown much support around the $1680 level, which was soundly defeated on Thursday. Because of this, I suspect there is a bit of an "air pocket" below. I think we could very well see an escalation of shorting on Friday, and if we find that the markets were comfortable to be short of gold over the weekend – this would be a very bad sign.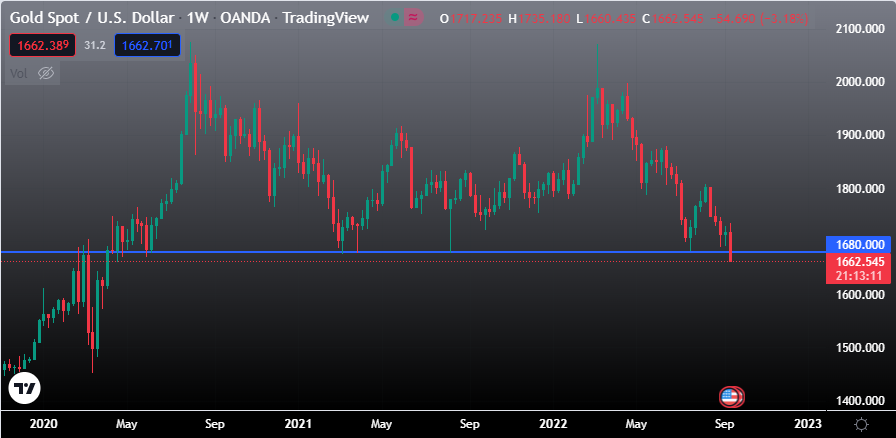 The biggest thing that stands out is that the US dollar has been relentless in its strength. Also, the interest rate markets in the US have been very strong, and it looks like people believe that the Federal Reserve is actually going to do what it has said over the last several months – meaning they are going to tighten monetary policy, and aggressively so. This is important, because the USD and gold have had a very strong negative correlation over the last several months.
I know this doesn't fit the narrative that a lot of retail traders have, but the world has a shortage of US dollars at the moment. This is because the interest rates around the world continue to rise, and most debt in the world is based in the USD. In other words, people are selling gold, and everything else they can, to raise cash – in USD. I think this continues for the foreseeable future, and therefore I expect more pain for the gold bulls.
My target is $1500 for the time being. I suspect if things get really bad – we could be looking at $1200. I will short rallies that look tired on short-term charts.