Currently, the USD/ZAR pair is hovering around the 18.200 mark, and it has found support just above the significant psychological level of 18.00. The EM currency seems to be on course to attain six successive weeks of gains, and this can be attributed to the sturdy US economy that has contributed to pushing the pair lower.
Meanwhile, South Africa is still grappling with power outages, popularly known as load shedding, and this has caused a decline in productivity. Despite Eskom, the major power utility, receiving a bailout of $13.9 billion, the safe-haven greenback is still in high demand due to a robust labor market and a strong dollar. This is not just a situation specific to South Africa, but many emerging markets as well.
For the volatile Rand, both technical and fundamental factors continue to exert pressure on its price action. With this in mind, you will have to be very cautious, but at this juncture, the charts look bullish for the USD going forward.
USD/ZAR TECHNICAL ANALYSIS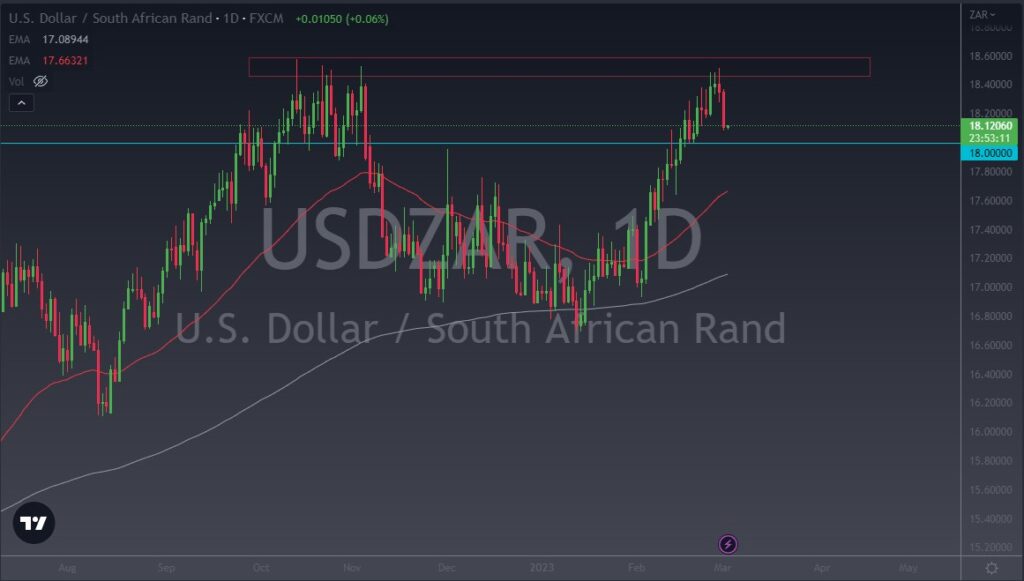 After rising back above 18.00 a few weeks ago, USD/ZAR has continued to climb toward the October '22 high, holding as resistance at 18.579. While the pair remains vulnerable to changes in the growth outlook and prospects of higher rates, a shallow-bodied candle has appeared on the daily chart on Tuesday, followed by a nasty retracement on Wednesday.
With prices currently hovering around 18.150, a move higher could open the door for upside potential. If the Dollar strengthens and the pair holds above 18.400, the October high could remain in sight. As the rising trendline from the current month low did get sliced through, the pause in bullish momentum today could be indicative of indecision, suggesting an important zone of technical support and resistance just above.
Although technical levels suggest that the pair may continue to rise, the 18.00 handle remains key. If South Africa continues to face more power outages, the upside could be supportive of additional gains. Furthermore, its worth noting that there have been several Fed speakers during the Wednesday session calling for "tighter for longer."