The Canadian economy has experienced a 0% quarter over quarter increase in Gross Domestic Product (GDP) for Q4, falling short of the expected 2.9% increase. The weaker growth is attributed to a decline in business investment and inventory accumulations. The report suggests that the Bank of Canada (BoC) is unlikely to raise interest rates further, as it may dampen weak economic growth by increasing borrowing costs. This news is unfavorable for the Canadian dollar (CAD), and it is expected that the USD/CAD will strengthen further, as the US Federal Reserve (Fed) is still anticipated to continue its tightening cycle.
After the release of this data, the USD/CAD rose to a daily high of 1.3609, but then retraced and settled in the 1.3590s range. Although the pair looks bullish in general, there is a certain amount of noise just above that will be difficult to break out from. However, if the pair does break out, it could reach towards the 1.38 level again, which was the high in November.
The Loonie is highly influenced by crude oil prices, which could have an effect on the USD/CAD pair in the future. The lack of growth in Canada will continue to be a major issue, and the housing issues unwinding in the Great White North also have a detrimental effect on the Loonie. With the Bank of Canada looking unlikely to raise rates anytime soon, it is likely that the CAD will lose value, not only against the US dollar but also other major currencies such as the British Pound, Euro, and Franc.
The USD/CAD pair has broken above several moving averages on the way up, indicating that systematic traders are bullish as well at this point in time. The US dollar has been strong against almost everything as of late, and the lack of growth in Canada will continue to be a major issue for the country. Overall, the USD/CAD pair is likely to be choppy, regardless of its trajectory.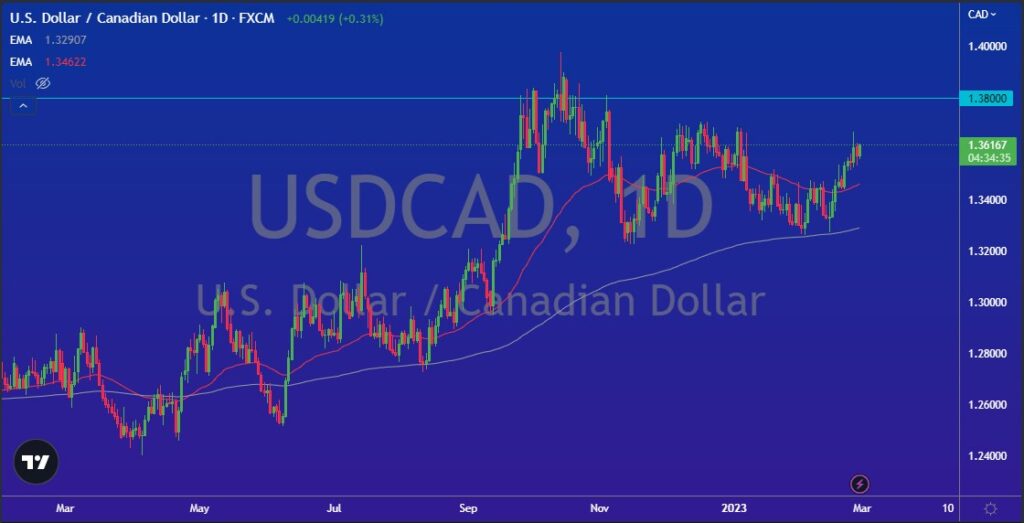 Chris